UPDATE – MAY 18, 2016: The Public Hearing was held on Monday, and the Hearing Officer (Elva.nuno-odonnell@lacity.org) is still accepting public comments through 5/23/16. As Paramount is intent on demolishing the RKO Globe building, please take a moment to email a short comment in support of the preservation of the "Melrose & Gower corner (Stage 21, 20, 19 & Studio Globe)." Take a stand and tell a friend. Let's save this iconic piece of Hollywood history!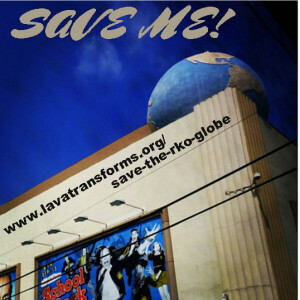 ORIGINAL POST – OCTOBER 23, 2015: As you may be aware, Paramount Pictures has proposed a Master Plan Project for their studio on Melrose Avenue. The Draft Environmental Impact Report (DEIR) is currently available for review. (Click here for information about it.) The 45-day public period for public comment ends on Monday, October 26, 2015.
Paramount's new Master Plan calls for demolition of eight stages and multiple other ancillary buildings. One of the stages intended for demolition is Stage 21 at the corner of Melrose and Gower. The historic RKO Radio Pictures Studio Globe that sits atop Stage 21 is currently slated for demolition.
We here at LAVA think folks should submit a short email stating that they care about the RKO Globe and want to see it retained in any new construction on that corner of the Paramount Pictures lot.
To submit comments for the Paramount Pictures Master Plan Project DEIR by Monday, October 26, 2015.
Below is our suggested template for comment:
Monday October 26th, 2015
[submitted electronically]
Adam Villani
Department of City Planning
City of Los Angeles
6262 Van Nuys Blvd., Room 351
Van Nuys, CA 91401
E-mail: adam.villani@lacity.org
Re: Paramount Pictures Master Plan Project ; CASE NO. ENV-2011-2460-EIR; State ClearingHouse NO. 2011101035
Dear Mr. Villani,
Thank you for submitting my comments into the official Case File.
xxxxxxxxxxxxxxxxxxxxxxxxxxxxxxxxxxxxxxxxxxxx
xxxxxxxxxxxxxxxxxxxxxxxxxxxxxxxxxxxxxxxxxxxx
Respectfully,
xxxxxxxxxxxxx
The RKO Globe and LAVA thank you!