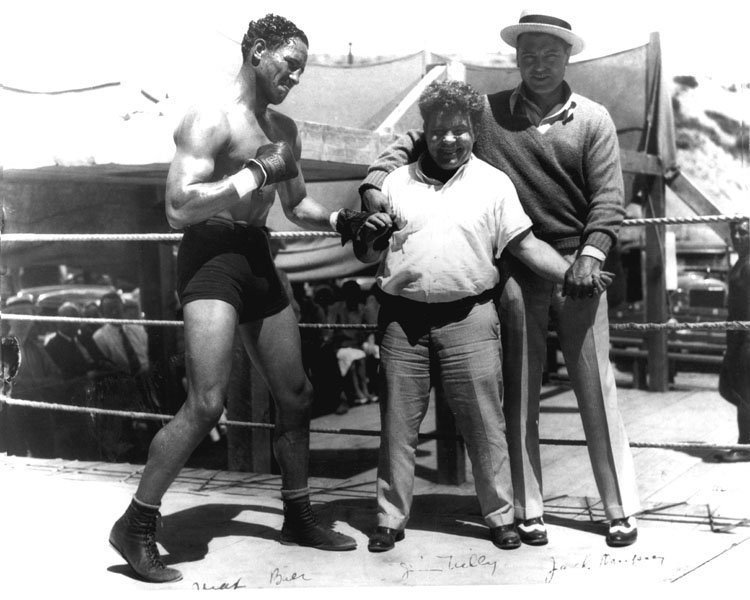 OTHER TULLY EVENTS: Laughter in Hell screening at the American Cinematheque (October 10); Bonnie Cashin Lecture at UCLA Special Collections (October 11); Jim Tully's Hollywood walking tour (October 14).
ABOUT JIM TULLY: The son of an Irish ditch-digger, Ohio-born Jim Tully (1886-1947) hit the road in 1901, spending most of his teenage years in the company of hoboes. While chasing his dream of becoming a writer, Tully rode the rails and worked as a tree surgeon, boxer, and newspaper reporter. All the while, he was crafting his memories into a dark and original chronicle of the American underclass. When he began to set his experiences onto paper in a style that was Hard Boiled before the genre existed, he became a literary sensation.
Read the Jim Tully 'One Sheet'
At October's Salon, Jim Tully's biographers Mark Dawidziak and Paul Bauer will seek to answer the fundamental question: "Why isn't Jim Tully still a household name?" Tully exploded onto the scene with a stream of critically acclaimed novels, among them Beggars of Life (1924), Circus Parade (1927), Shanty Irish (1928), Shadows of Men (1930) and Blood on the Moon (1931). Yet the books were out-of-print for decades, their author forgotten.
To answer this question, Mark Dawidziak and Paul Bauer must look to the Hollywood of 1912, to the sleepy little suburb that Tully found and watched grow up around him, as he built his incongruous twin careers as motion picture publicist and independent writer. From his piercing insights into and deep ambivalence toward his longtime employer, Charlie Chaplin, to anecdotes of great friendships with W. C. Fields, Jack Dempsey, Damon Runyon, Lon Chaney, Frank Capra, and Erich von Stroheim, Tully exhibited a lust for life which was only surpassed by his devotion to his craft. By 1930 Tully was a major American author, and had launched a parallel career as a successful journalist. Both his novels and journalistic exposés shook the country and his peer group in Hollywood.
But Tully's novel Ladies In The Parlor (1935), was declared obscene and most copies destroyed, and Chaplin successfully prevented Tully's publisher from releasing a biography of the actor. By the mid-1940s, crippling physical ailments and family heartbreak left the writer on the ropes. With his death in 1947, his name quietly slipped from the front ranks of American Letters and into obscurity.
Since 2009, Kent State University Press has been rectifying this long neglect with a series of Tully reprints. And in 2011, it published Mark Dawidziak and Paul Bauer's definitive biography, Jim Tully: American Writer, Irish Rover, Hollywood Brawler, drawing on new information found in the Tully papers at UCLA Special Collections.
The time is ripe for a revival of interest in this fascinating American character, and we invite you to play a part in it at the October Salon.
Paul Bauer cowrote Frazier Robinson's autobiography, Catching Dreams: My Life in the Negro Baseball Leagues. And, with Mark Dawidziak, he is the coauthor of Jim Tully: American Writer, Irish Rover, Hollywood Brawler. He is a used and rare bookseller and lives in Kent, Ohio.
Mark Dawidziak has been the television critic at the Cleveland Plain Dealer since 1999. A theater, film and television reviewer for more than thirty years, his many nonfiction books include The Barter Theatre Story: Love Made Visible, The Columbo Phile: A Casebook, Mark My Words: Mark Twain on Writing, The Night Stalker Companion, Horton Foote's The Shape of the River: The Lost Teleplay About Mark Twain, The Bedside, Bathtub & Armchair Companion to Dracula and, most recently, with Paul J. Bauer, Jim Tully: American Writer, Irish Rover, Hollywood Brawler.
Also appearing at the Salon is Howard Prouty (Acquisitions Archivist at The Academy Foundation/Margaret Herrick Library and proprietor of ReadInk) presenting on a famous Los Angeles book seller, the latest in his ongoing Salon series. This time, this takes the form of a conversation between Howard Prouty and Aaron Epstein, son of Louis Epstein, founder of Pickwick Books.